How an olive tree sponsorship works
This is how olive tree adoption works: adopting an organic olive tree at Organic Farming Italy is different from buying olive oil at the discount store. With the sponsorship you get your own tree. You can see and visit him. And that is as long as you are the godfather of the tree. Your tree is cherished, cared for and harvested by us. You can help at any time if you want to.
With the adoption you promote sustainable agriculture in Italy, because the small farms generate an additional income through the adoptions and get a fair price for the olive oil. As a result, more and more conventional farmers are converting to organic farming and the organic land is expanding.
Currently, a relief fund is being set up to ensure the survival of olive farmers on the western Ligurian coast: "Rete Tesori della Riviera" is the name of the organization that manages this fund. It helps the farmers. Preserve their organic agriculture, as many are threatened in their livelihoods by the drought of 2022 and the poor harvest of 2021. Organic Farming Italy supports this organization with every olive tree sponsorship sold. MORE >>
On our farms, olive trees of the Taggiasca variety are grown throughout. This is a famous olive with a long tradition, introduced hundreds of years ago by the monks of Taggia. So a really special olive that provides a premium organic olive oil.
Thus, the process is an organic olive tree adoption ingescent using the example of Sassolive:
You can place your orders online with us. You can choose between the olive tree sponsorship without gift package or with gift package. It is important that you enter the name that should be on the wooden sign and the certificate when ordering. And maybe a date if you want a special one printed on it. The order will be automatically confirmed by e-mail.
1. making the wooden signs for the sponsorship
Once your organic olive tree adoption order has arrived and been paid for, Max will get to work. He looks for a nice piece of wood on the site and saws out a disc. This shield he brings to Naina.
Naina sands the wood and writes the desired name on the wooden sign, drills holes for mounting and impregnates the sign with an organic impregnation. This protects the shield from running in case of weathering.
2. search olive tree and attach sign
Then Naina looks for a beautiful tree that has the right size according to the order. She attaches the wooden sign to this tree. Then she shoots a video of the tree and takes photos of him and the sign. She uploads this photo material – as desired – either to a Dropbox folder or to a specially created WhatsApp group.
It then stores the exact location of the tree in Google Maps and also sends the link to the group. The whole process takes about 5 business days, depending on the weather – we cannot install the signs in bad weather.
3. the preparation of the documents/certificates
In parallel with the signs, your certificate will also be created. We insert the desired name and date into the appropriate certificate and produce a PDF of it. This PDF is then uploaded to either the Dropbox folder or the WhatsApp group. The resolution of the PDF is so high that you will get a good print quality if you want to print the certificate. Delivery time approx. 2 working days
4. photos and video of your olive tree
With each organic olive tree adoption, we take photos and a video of your tree and create an exact location on Google Maps so you can see exactly where your tree is growing. We will upload this material about your organic olive tree adoption either to a Dropbox folder created for you and only accessible by you, or we will create a WhatsApp group for your adoption and upload it there. The advantage of the group is that we can more easily send you updates about your tree there. So when it starts to bloom or we prune it, etc.
5. the gift package, optional with each adoption
We offer a gift package for each organic olive tree sponsorship, because we have found that most olive tree patents are not done for themselves, but for someone else. They are also very popular as wedding or birthday gifts. That's why you can simply order the gift package.
This does not change the procedure of normal olive tree adoption. But, you get a package delivered home. This shipment includes the certificate printed on a beautiful paper in a white wooden frame and a vial of organic olive oil from the farm. With this you have something in your hands that you can present at the party or send to the recipient. Delivery time approx. 3-8 working days.
6. the delivery of the premium organic extra virgin olive oil.
Harvesting your Taggiasca olive tree yields between one and six bottles of organic extra virgin olive oil, depending on the size of your tree. We harvest every year from October. Depending on the weather conditions, the harvest lasts until November/December.
Every day the olives are cold pressed. At a special supplier in the region that only processes organic olives. The oil is stored in large barrels until February. Then we fill it up and ship it. In any case of adoption you will receive 0.5 liters of organic extra virgin olive oil automatically sent to your home or to an address you give us.
After we know how the harvest turned out and how much olive oil your tree yielded in that season, you can reorder more olive oil from your tree at a special price.
7. visit your organic olive tree
Our farm is not located in Spain or Crete. Organic Farming Italy is easily accessible by car. From z.B. Munich you are with us in 7 hrs. Imperia is a charming typical Italian town. It is located in a region protected by the state, which means that there is very little tourism and that everyday Italian life still takes place as it should be.
We are on a hill by the sea – Alpicella – between Imperia and Diano Marina. With us it is very quiet and spacious. So you are welcome to come and visit us if you like your tree. Houses to live in are available. Einen Eindruck bekommst Du hier >>
9. find your tree on google maps
All trees from each farm are registered in a Google Map. That makes it easier for us. But you can also use this and find your olive tree from your sponsorship. Just go to the page and enter your order number in the search box. Then you can see exactly where your tree is.
9. support for organic farmers in Liguria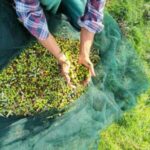 Organic olive farmers in Italy have had virtually no income for 2 years in some cases. Last year the harvest was about 20% compared to a normal year, this year it will be even less due to the drought in the summer.
The organization "Rete Tesori della Riviera" is a newly formed association to help organic farmers. Organic Farming Italy supports this organization: from each adoption a part of the fee goes to the relief fund.
To the sponsorships >>
10. the extension of the sponsorship
A normal bio olive tree sponsorship runs for one year. At the end of this year we will write to you and offer you to extend your sponsorship.
You can then renew for one year or for multiple years.